Benefits of Dental Implants

Improved Functionality and Comfort: Dental implants provide a stable and secure foundation for replacement teeth, closely mimicking the function of natural tooth roots. This stability enables patients to eat, speak, and smile with confidence, without the discomfort or inconvenience often associated with traditional dentures or bridges.
Bone Preservation and Facial Structure Support: Tooth loss can lead to bone resorption, a process in which the jawbone gradually deteriorates due to the absence of stimulation from the tooth root. Dental implants help prevent this bone loss by fusing with the jawbone through a process called osseointegration, maintaining bone density and facial structure.

Long-lasting and Aesthetically Appealing: Dental implants are made of durable materials, such as titanium, which are biocompatible and have a high success rate. With proper care, dental implants can last a lifetime. Additionally, the implant-supported restorations are custom-designed to match the appearance of your natural teeth, resulting in a seamless, visually appealing smile.
What is a Dental Implant?
A dental implant is a small, screw-like post made of biocompatible materials, such as titanium, that serves as an artificial tooth root when replacing a missing tooth. Dental implants are surgically inserted into the jawbone, providing a secure and stable foundation for attaching a dental prosthesis, such as a crown, bridge, or denture.
Over time, the dental implant undergoes a process called osseointegration, in which it fuses with the surrounding bone. This integration creates a strong bond between the implant and the jawbone, ensuring the implant's stability and long-term success.
Once the implant has fully integrated with the bone, a connecting piece called an abutment is attached to the implant. The abutment serves as a link between the dental implant and the replacement tooth or teeth. Finally, the dental prosthesis (crown, bridge, or denture) is custom-made and securely attached to the abutment, completing the tooth replacement process.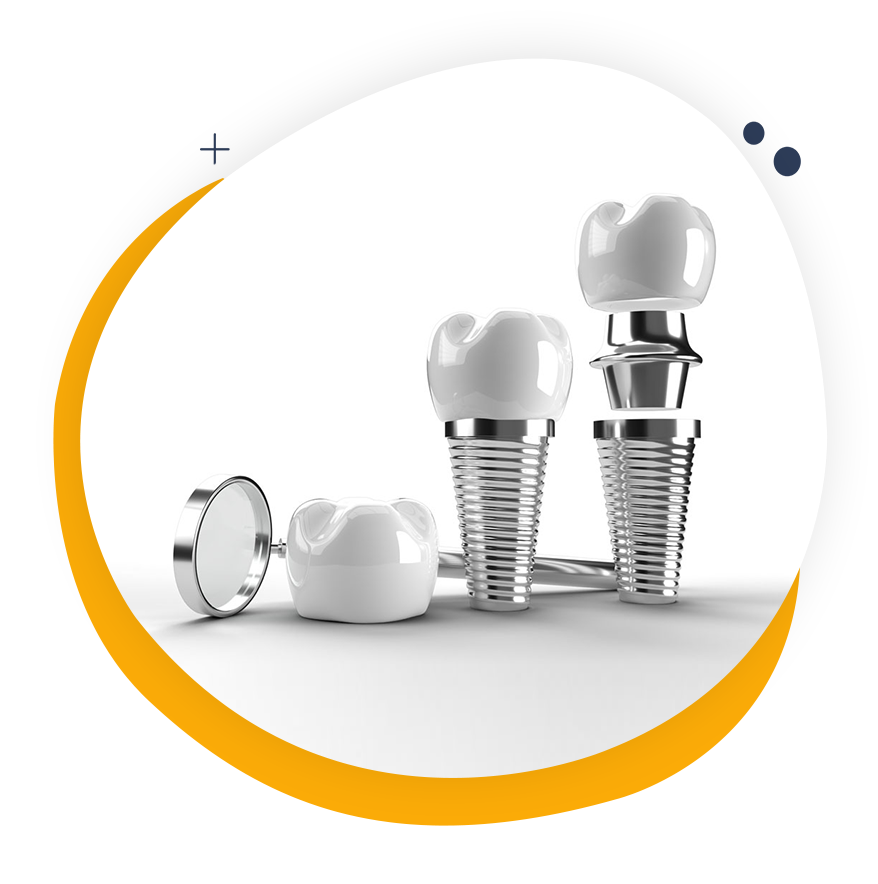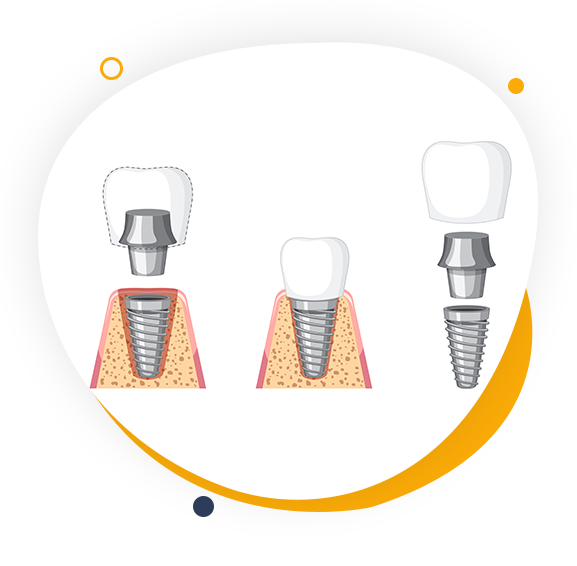 Dental Implants Recognition
Dental implants are widely recognized for their durability, natural appearance, and ability to restore the function and aesthetics of a missing tooth. They have become the preferred method for tooth replacement due to their numerous benefits over traditional dentures and bridges.
What Our Clients Say
I go very far out of my way to come to them because they are just so amazingly wonderful. I never feel like they are doing extra work for the... read more money. They are so friendly and it's a really family environment. HIGHLY recommend

Mila B.


September 30, 2022

very professional, exerience and oustanding dentist Vlad Gaidukov. He makes you fill very comfortable. Thank you so much! Recomended for everybody!

Inna Chkliarova


June 30, 2019

I recently had the pleasure of visiting Dr. Vlad's dentistry for an Invisalign treatment, and I cannot express how impressed I am with his expertise and the quality of care... read more I received. Dr. Vlad and his team went above and beyond to ensure that my experience was exceptional from start to finish. From the moment I stepped into the clinic, I was greeted by a warm and friendly staff who made me feel instantly comfortable. The waiting area was clean and inviting, with a calming atmosphere that helped alleviate any anxiety I had about the treatment.

Mary Zachepylenko


June 16, 2023

I would highly recommend this dental office. They are amazing staff, service and ease of scheduling. They always do a good job I really recommend!!!

Odelya Israilov


June 23, 2023

Dr Vlad is great! He is very skilled and efficient. Time moves quickly when I am in his chair which is a really good thing. His treatments... read more were nearly painless even when he advised I might feel pain which is also great!

Roku Roku Music


December 30, 2022

Very caring and friendly staff. Dr.Vlad is very professional and does a great job with a variety of services. My whole family goes to this clinic and we have done... read more cleaning, fillings, and tooth removal. Amazing clinic and highly recommended.

P D


October 30, 2022

I had an emergency with my wisdom tooth. Although, the dental clinic was already closed and the doctor, Vladimir, was on his way home, he returned to the office and... read more did his best to pull out the tooth, check the condition of the mouth after the extracting the tooth. Totally, spent more than an hour with me. I am satisfied with the professionalism and care of the staff.

Irina Serpukhova


June 30, 2019

Made the switch to this dentist office after waiting months for my last dentist to book me in. The doctor here was able to get me in quickly within a... read more few days and start working on my much needed dental issues. Since I have joined I have been prioritized and feel very welcomed by the friendly staff. the work done so far is very professional and I have felt no discomfort so far.

Michael P


March 2, 2023

Fantastic Invisalign results in just 7 months. Thank you Dr. Marina and Dr. Vlad for your utmost attentive care!! I love my smile.

Anton Ilin


October 30, 2022

Had an excellent experience at Atlantis Dental in Woodbridge with Dr. Vlad . He is highly professional, caring, and knowledgeable .Greatly appreciate his excellent service, and would definitely recommend to... read more anyone looking for a quality dentist!

Michael Ovchinnikov


June 30, 2019

I had an emergency with my tooth. I am pleased with the professionalism of Dr. Vladimir Gaydukov, he very quickly and accurately pulled out a tooth, checked the condition of... read more the mouth after tooth extraction. He is a very professional, experienced dentist. Everything was very comfortable. Many thanks to you and the staff! I recommend for everyone!!!

Natalya Nekh


June 30, 2020

Excellent! From the moment You walk in, to the moment You leave You know you're in very capable hands... Dr. Vlad is a true master, and a perfectionist... I'm very... read more happy with my new smile😁

Tommy Notimportant


December 30, 2022

Vladimir is responsible person. The service was fast and qualitative. I am very glad.

Elshan Babayev


December 30, 2022

Excellent service. Receptionist/office manager is very friendly and clearly explaining everything. Hygienist is very careful to clean. Dr. Vlad is very professional. Highly recommended this office.

Marina Usmanov


October 30, 2022

Great clinic! They are the best in what they do We are with them for almost 4 years so far They take good care, make proper cleaning, fillings. Everything! Highly... read more recommend!

Marina Bondarenko


November 30, 2022

I have been Dr. Vlad's patient since 2017, and I am absolutely confident in the doctor's professionalism and work quality. I recently had the replacement of two crowns that I... read more had been wearing for 25 years, and I received new metal-ceramic ones. I also underwent cavity treatment and am now considering getting Invisiline. I also visit my hygienist, Larisa, every 6 months, and I must say she is the best! Additionally, their office administrator, Elena, is a great specialist. She always works her magic with the insurance companies, so I never have to worry about payments. Thanks to Elena, everything gets automatically covered by my benefits. I highly recommend this dental clinic! I am not looking for anything else closer to my house. I live in Barrie but am willing to drive for an hour one way to make sure I get the best treatment possible!

Natalia Kochergina


June 23, 2023

I have had the good fortune of having Dr.Vlad as my dentist in Vaughan, Onta. It is by far the best dental care I have ever experienced. Dr.Vlad and his... read more team are professional, friendly and made me feel like family. Dr.Vlad is very straight forward. I would definitely recommend Atlantis Dental for all your dental care needs.

Suleyman Usmanov


November 30, 2022

My family has been going to Dr. Vladimir Gaydukov for over 7 years. We have never experienced any issues with the dental care or booking process. Elena and Dr. Vlad... read more are both very accommodating and understanding. Huge thank you for your service!

Igor Rabinovich


June 29, 2023

My first experience in this clinic started when I had a problem with my front tooth - something wrong was happening, which caused some black spot there so I wasn't... read more feel comfortable to smile. Then I came to Apolonia Dental and Doctor Vladimir helped me to solve this problem, as well as identified other teeth issues. Great people and friendly staff work there, I definitely recommend this dental clinic!

Elena Antipova


June 16, 2023

By far the best dental office my wife and I have been to. Have been going here for the past 9 years and the staff is very respectful and friendly.... read more Would highly recommend if you are looking for a dental office! 👍

Naseem Danayar


September 30, 2022

I had a great experience with this place. The staff were nice, the office was clean, and the entire staff are very professional. I would recommend this to everyone i... read more know. Dr. Vlad was very professional and knowledgeable. It felt like a patient-first clinic. He is also very understanding and a good listener.

Trabant 601


September 30, 2022

I have had the good fortune of having Dr.Vlad as my dentist in Vaughan, Ontario for almost two years now. It is by far the best dental care I have... read more ever experienced. Dr.Vlad and his team are professional, friendly and made me feel like family. Dr.Vlad is very straight forward. A lot of other dentist's I have been to exaggerated what my needs were in order to make more money. it was nice to have a dentist with such integrity. I would definitely recommend Atlantis Dental for all your dental care needs.

teresa bruce


June 30, 2020

Stop the presses! I've uncovered a hidden gem in the dental world, and its name is Apolonia Dental. Prepare for a dental experience like no other, complete with top-tier care,... read more a staff that's cooler than a minty breeze, and a joke-worthy incident that left me grinning from ear to ear! As I stepped into the vibrant realm of Apolonia Dental, I was immediately engulfed in an atmosphere of friendliness and charm. The reception staff was like a bunch of dental superheroes, swooping in with their superpowers of efficiency and kindness. They made the paperwork dance seem like a piece of cake and filled me in on all the dental deets with enthusiasm. Now, let's talk about the star of the show: Dr. Vlad, the mastermind behind Apolonia Dental. This dental wizard isn't just skilled; he's practically got a dental wand! Dr. Vlad took the time to listen to my concerns while I rambled on about my teeth fears and dental adventures. He's not just a dentist, he's a friend in a white coat. And boy, does he know his stuff! His treatment options were laid out like a choose-your-own-adventure book, complete with all the twists, turns, and happy endings. During my procedure, Dr. Vlad showcased his dental magic. With a combination of grace and precision, he worked his wonders while cracking jokes that kept me chuckling (as much as one can chuckle with dental equipment in their mouth!). I won't spoil the surprise, but let's just say there was a funny incident involving a flying cotton roll that left us all in stitches. Who knew dentistry could be a comedy show too? But let's not forget the incredible supporting cast at Apolonia Dental. The dental hygienists were like oral health superheroes, making my pearly whites gleam like stars in the night sky. They scrubbed away plaque like it was a stain on a superhero's cape, all while keeping the atmosphere light and friendly. Trust me when I say that their witty banter made the whole dental experience a blast. Apolonia Dental is more than just a dental clinic; it's a wonderland of smiles. The clinic itself is a masterpiece of comfort and style, designed to make you forget you're even at the dentist. The waiting area feels more like a cozy living room, and the state-of-the-art equipment is so impressive that even James Bond would be jealous. They even have a popcorn machine, so you can enjoy a snack while waiting for your time in the spotlight! Safety and hygiene? Apolonia Dental takes them seriously, like superhero costumes at a comic convention. You can rest easy knowing that they have the protocols in place to protect everyone's health, so you can focus on being the star of your dental visit. In conclusion, Apolonia Dental is a treasure trove of smiles, laughter, and dental expertise. Dr. Vlad and his superhero squad are ready to turn your dental fears into toothy grins. So, whether you're due for a routine cleaning or a heroic dental rescue, Apolonia Dental is the place to be! A heartfelt thank you to Dr. Vlad and the stellar staff at Apolonia Dental for making my dental visit one for the storybooks. You've raised the bar for dental excellence while keeping smiles wide and laughter contagious. Kudos to you all! And remember, folks: Keep smiling, because life's too short to hide those pearly whites!

R. T.


May 30, 2023